Accidentally Locked Out of Your Vehicle? Derek's Towing offers 24 hour automotive lock out service in Frederick Maryland.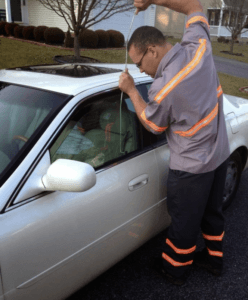 Call Derek's Towing at 240-457-7774 for Prompt Service! Derek's Towing & Recovery provides quality emergency roadside services you can depend on in Frederick County, MD and surrounding areas. Our reliable and experienced technicians are available 24 hours a day, 7 days a week, if you are in the unfortunate situation of being locked out of your vehicle.
Your roadside safety is our top priority. Derek's Towing & Recovery's trusted technicians are well experienced in unlocking vehicles of all makes and models. Our emergency vehicles are fully equipped with the necessary lockout tools to open your vehicle quickly and without any damage to your vehicle.
 
Damage Free Auto Lockout Service
After years of assisting motorists with getting them back into their locked vehicle, we know how costly damages from various objects used by motorists in attempt to get into locked vehicles can be. Without the proper tools, objects used can damage paint, door frame, and weather strips in your vehicle. As stated by Low Rate Locksmith Castro Valley, leave it to the experts at Derek's Towing to unlock your vehicle quickly and expertly with our professional roadside assistance services.