HOA & Condo Association Parking Lot & Parking Pass Enforcement, Private Parking Enforcement, Commercial Lot Enforcement
Frederick
Derek's Towing & Recovery – Frederick
313 E 4th Street
Frederick, MD 21701
Phone: 240-457-7774
Westminster
Derek's Towing & Recovery – Westminster
1734 W Old Liberty Rd.
Westminster MD 21157
Phone: 240-457-7774
Hagerstown
Derek's Towing & Recovery – Hagerstown
777 South Potomac St
Hagerstown MD 21740
Phone: 240-457-7774
We offer HOA & Condo Association Parking Lot & Parking Pass Enforcement, Private Parking Enforcement, Commercial Lot Enforcement in Frederick, Westminster, Hagerstown, Sykesville, Williamsport, Middletown, Eldersburg, New Market, Mount Airy, Maugansville, Thurmont, New Windsor, Myersville, Smithsburg, Urbana, Spring Ridge, Etc
Dereks towing Westminster lot to provide private property towing services. Dereks towing is your one source for parking management solutions. We work for private property owners, apartment managers, property management company, residential and commercial property leasing agents, to manage all of your parking needs. We can provide parking permits, handtags, stickers, towaway signs, towaway warning stickers, towing signs, literally everything needed to make parking issues a thing of the past. We can patrol your lot or if you are not a big fan of towing cars we can set the property and contract up so when the need arises all you need have to do is call us.

We would love to talk to you if you have any questions. Call us 240-457-7774

If your car was towed, please give us a call to make arrangements for someone to meet you at our secure vehicle storage lot so you can retrieve your vehicle. We follow the tow rate schedule set by the state of Maryland and accept cash or major credit cards as form of payment. 
We will towaway abandoned car removal service.
During our towing patrols, we use sound judgement. If it looks petty, we will overlook it. It is an issue and the issue can be adequately photographically documented then we will do so. We will follow the contractual agreement we establish with you and perform services accordingly. You will get an email with a copy of the invoice and a link to see the pictures prior to applying a warning sticker or towing.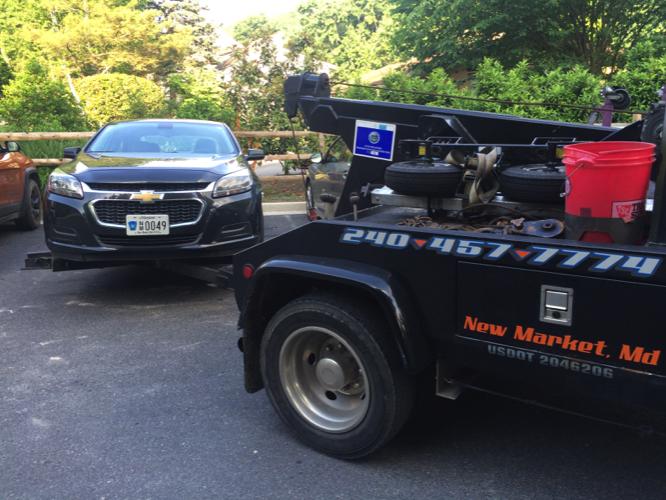 Our towing enforcement will remove abandoned vehicle from your property, follow local and state legislation pertaining to inoperable vehicles, Towaway violators from handicap parking spaces and fire lanes. We will work with you to define what is a commercial vehicle and towaway commercial and oversize vehicles that you do not approve of. All tows will be reported to the police per the state law so owners cannot report them as stolen. HOA towing enforcement can help mitigate many property violations and ensure residents can park in their assigned spot when the come home. Semi trucks should not be parked on HOA or city streets overnight. Tractor trailers are often the source of a number of residential complaints. We can provide Parking for patron's signs. Some communities require towing enforcement from alley ways and vehicles blocking other residents' driveways or garages.

We work with Various Police agencies, Property management companies, apartment complexes, Homeowner associations, Parking lot owners, commercial and residential property owners, Frederick County Roads, Carroll County Roads, Frederick County Code Enforcement, Carroll County Code Enforcement. 
We have three secure towing lots in Frederick, Westminster, And Hagerstown to better serve your needs. Our Service Areas include Frederick, Westminster, Hagerstown, Sykesville, Williamsport, Middletown, Eldersburg, New Market, Mount Airy, Maugansville, Thurmont, New Windsor, Myersville, Smithsburg, Urbana, Spring ridge, Etc